Nicholas Boggs
Nicholas Boggs, currently the inaugural Walter O. Evans Fellow at the Beinecke Library and the Gilder Lehrman Center at Yale, is also the recipient of a Leon Levy Center for Biography Fellowship, an NEH Long-Term Fellowship at the NYPL, a Robert and Ina Caro Research/Travel Fellowship from Biographer's International, a Faculty Fellowship at the NYU Center for Humanities, and a Visiting U.S. Fellowship at the Eccles Centre for American Studies, British Library.
Boggs is co-editor of James Baldwin's LITTLE MAN, LITTLE MAN: A Story of Childhood (2018), which Entertainment Weekly called "brilliant, essential" and The New York Times wrote "couldn't be more timely." He is currently at work on a biography of James Baldwin forthcoming from Farrar, Straus and Giroux. This book will be the first major James Baldwin biography to tell the overlapping stories of his relationships with four pillars of his adult life—his mentor, the Black American painter Beauford Delaney; his lover and muse, Swiss painter Lucien Happersberger; and his collaborators, famed Turkish actor Engin Cezzar and French artist Yoran Cazac.
Twice a fellow at both Yaddo and MacDowell, as well as a Writer-in-Residence at the James Merrill House, Boggs was recently awarded a residential fellowship at Loghaven, where he will be in residence in February 2023. He received his BA from Yale, his MFA from American University, and his Ph.D. from Columbia. He serves on the Board of the NYU Biography Seminar and the Advisory Board of the literary journal The Kenyon Review.
Speaking and workshop topics include the life, work, and legacy of James Baldwin; resurrecting Baldwin's Little Man, Little Man; twentieth and twenty-first century American and African American literature, and narrative non-fiction writing.
Photo credit: Jonathan Blanc/NYPL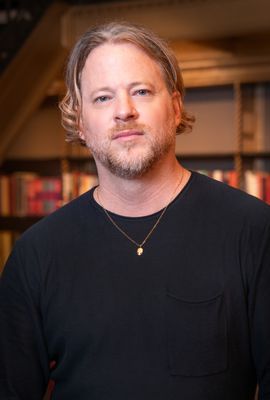 Praise for the new edition of James Baldwin's LITTLE MAN, LITTLE MAN, co-edited by Nicholas Boggs:
". . . it could scarcely be more timely. It's arriving at a moment when children's book authors and publishers are more frequently placing black and brown children at the center of narratives about everyday life, often taking on charged social issues like mass shootings, addiction and police violence against African-American youth." – Alexandra Alter, The New York Times. Read the full review.
"Pulled from the past, this is a brilliant exploration of black childhood with profound emotional depth, drawn from the grace and struggles of community and reinforcing the truth that no one knows Harlem like Baldwin." – Kirkus Reviews
"A vivid perspective that is both moving and enriching . . . It is a story of childhood, from a particular time and place, captured in colloquial language that is freighted at once with innocence, pain and tenderness." – Meghan Cox Gurdon, The Wall Street Journal
"A book to study and discuss at length. . . . The story's profound depth stems from the implication that childhood innocence is a myth. Baldwin implies, as he does in his other work, that claiming innocence to racism (by adults and children alike) is a poor excuse for avoiding the difficult work required to grapple with it. Baldwin's story of childhood forces the reader to grapple." – Jenny Gapp, School Library Connection
Books, Films & Projects
Clips
Nicholas Boggs moderates "Bio Hacks: Tips and Tricks of the Trade" at the 2022 BIO Conference.
Trailer for James Baldwin's "Little Man, Little Man," co-edited by Nicholas Boggs
James Baldwin: A Reading and Conversation with Nicholas Boggs & Nicole Terez Dutton
Eddie Glaude on James Baldwin, with Nicholas Boggs
News
Nicholas Boggs is the 2022 recipient of the Virginia Center for the Creative Arts' newly endowed Steven Petrow LGBTQ+ Fellowship! Read the announcement.